Retail Business Accounting
RUNNING YOUR RETAIL BUSINESS
No matter what type of retail business you are, whether it be a pure play online store or a combination of offline and online, there are many obstacles that you need to overcome.
For example, some retail businesses may face seasonality issues or have peak seasons such as Boxing Day sales which may mean sales are reduced at other points.
For retail businesses there are many factors to success. Retail businesses need to worry about advertising, marketing, keeping records of stock, forecasting and customer service to ensure the customer is satisfied with your product & service.
Therefore retail businesses need an accountant who understands these issues and can help put processes and procedures in place to help mitigate the risks as best as possible.
At Marin Accountants'  our retail clients include small to medium retail and wholesale businesses. We can provide clients with a virtual CFO service whereby we assist in ensuring the business is running smoothly financially by:
Preparing monthly reports with analysis
Forecasting and budgeting (cash & inventory management)
Run monthly/quarterly accounts meeting to ensure the company is running towards budget
Liaising with the bookkeeper/ accountant to ensure the financials are being recorded correctly
Assist with putting together documentation for financing
Assist with equity raises
Help with business strategy
Connect the business owners to service providers such as digital agencies, bookkeepers, outsourcing companies, payment gateway providers, overseas service providers for international expansion.
Our skill in servicing these clients is evidenced by being awarded the 2018 NORA Solution Provider Excellence Award for Best Accounting Firm for retailers.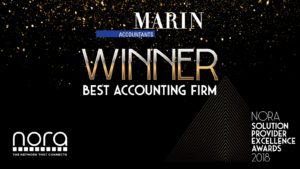 Whether you are an established retailer or starting your first business, Marin Accountants can work with you to provide you with the best taxation and business advice to help ensure your retail business is a success.  To arrange a meeting with a member of our specialist team, email or phone us on the link below.
Retail Business Accounting - Enquiry